Reporting Cameras
WARNING: You must not report a camera whilst in control of a vehicle. Either stop where safe to do so or get a passenger to record the details.
Speed Cameras are dynamic roadside furniture. A lot of speed cameras are permanent and will not change year in year out, but some are more transient, and others are installed on a daily basis. Our database is global and covers most countries where cameras have been installed. To keep the database up to date we have teams of "Camera Spotters" and "Camera Verifiers".
You can help us by reporting sightings of cameras that are not in our database or ones that are in the database but do not have the correct details. If you are the first to accurately report a new camera or a change to an existing camera that is subsequently verified then you can earn a lifetime subscription to the PocketGPSWorld.com site. An accurate report is considered to be: Of the correct type, on the correct road, within 100 metres of the verified camera, having correct speed, and having correct direction. You must register your phone before you can submit a camera report.
Reporting a new camera is simple in CamerAlert, just tap the capture camera button as you pass the camera. This will record your current position and display the following screen: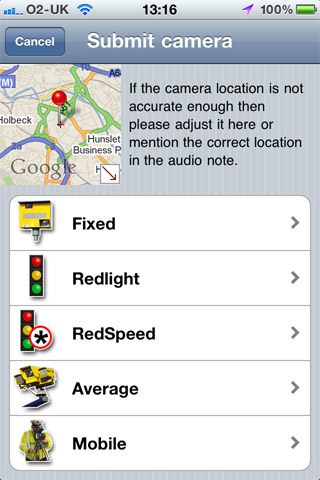 Important: When you tap the capture camera button the GPS position is recorded. You can complete the submission there and then or wait for a few hours before you submit, the location will not change.
This is the first of a series of up to 3 screens to select details of the camera you are reporting. The most important part of this display is the map showing the recorded location of the camera. There will be a pushpin at the location that has been recorded. Moving the map will move the small cross-hair cursor giving you precise control of the position to report. If you need a larger area to help you select then you can tap on the arrow icon in the bottom right corner of the map and this will open up to a full screen map.
Once you are happy with the position tap on the icon of the camera type that you are recording. We are not concerned about the exact type or make of camera (Gatso, Truvelo, Monitron etc) just the class of the camera. Having selected the camera type you will see the speed selection screen: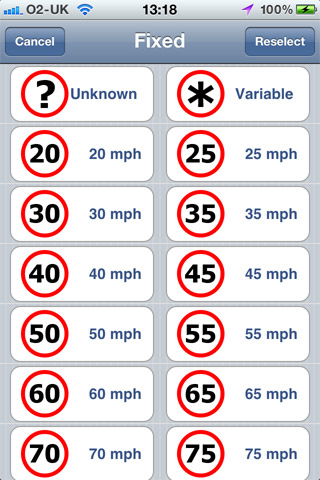 There are a lot of speeds on this display ranging from 20 to 130 with increments of 5. This is because there are a large number of different limits across the world. In the UK speeds are from 20MPH to 70MPH in increments of 10MPH, in the USA speeds vary from 20MPH to 85MPH generally as x5MPH, and in Europe and elsewhere speeds can be recorded up to 130KPH.
There are two special icons for speeds that are unknown, and where the camera is subject to changing speed limits for traffic flow control.
After the speed has been tapped the final display is shown:
With this screen you can now specify which direction the camera monitors. Please bear in mind that some cameras (SPECs and Truvelo) can be installed to operate in forward or rear facing modes whereas others operate in rear facing mode only. We need the direction that the vehicle is traveling when the camera is active. In some situations the camera may be reversible either by having 2 cameras monitoring both directions at the same location or by having a single camera that can be manually turned to face the opposite direction.
If the camera is in a remote location and it is appropriate to do so then take a picture of the camera using the 'Take picture' button. Bear in mind that you will have to stop to do this, but it can provide additional verification for the submission. If you already have a photo on your phone you can use the 'Add photo' button to select it from your photo library.
Sometimes a brief description of the location can help our verifiers, particularly where mobile cameras are involved. You can do this by attaching a voice note to the submission. Tapping the "Add voice note" button starts a recorder. Tapping it again stops the recording. Once you have recorded a voice note you can press the blue arrow icon to play it back to yourself or press the menu button itself to clear it. Note that you are limited to 8 seconds of audio.
Once you are happy with the submission tap the submit button. This then attempt to transmit the information directly to our server where it will be queued for processing. After successful transmission you will get a confirmation message, and if you have an account with an email address recorded you will also get an email confirmation.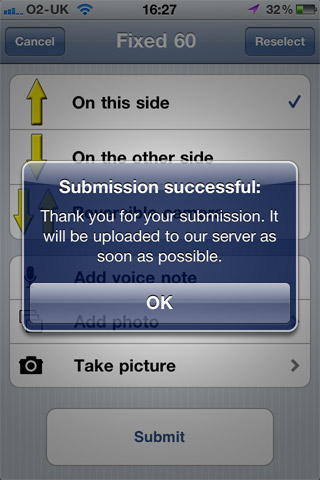 In the main Settings and then in 'Manage cameras' you will see a section called 'My submissions'. This is where you set up how your submissions will be handled. If you do not want to transmit the submissions to our server, for example if you are abroad and don't want the roaming data charges, then you can select 'no' for 'Allow transmission'. Setting this to 'yes' will upload your submission when you are on the main CamerAlert view (map or list) and the app detects a valid internet connection. Turn on 'Keep log after upload' if you want to see all your sent submissions as well as your unsent submissions. Turn it off to only show submissions that are waiting to be submitted.
If you have made any submissions then you will see a blue arrow next to 'My submissions'. Press this to view your submission list (depending on the settings described above). Here you can edit any details of cameras that have not yet been transmitted (for example to add a photo or correct the speed) or clear your list (note that any submissions that have already been transmitted will be cleared from your local list but still be available on our server for the Database Admin to process).