Original version: 7 Feb 2010
Updated: 7 Feb 2011 (Based on app version 1.2.5)
Introduction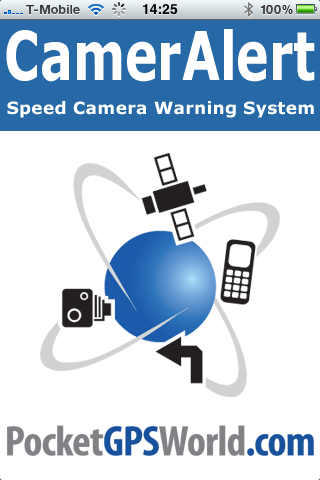 CamerAlert is a Speed and Red Light Camera warning system based on the world renowned PocketGPSWorld.com Speed Camera Database. It provides both audible and visual warnings as you approach a camera. When you are in a section of SPECs or Average Speed Cameras, CamerAlert keeps track of your average speed to ensure you are aware of your average speed between each camera. To cut down on the number of "False Alerts" you are only warned for cameras that monitor your direction of travel.
CamerAlert works in two different modes: Map and List. In Map mode the main display is a map with the cameras positioned on it. This can be shown either as "North Up" or "Course Up". The list mode simply shows a list of all the cameras in the area, highlighting the ones that you are approaching.
CamerAlert comes preinstalled with a Speed Camera Database – this WILL be out of date! To ensure you have the latest camera information we also offer a free Latest Database Guarantee which allows you to download the latest database after product registration. CamerAlert allows you to use your existing PocketGPSWorld.com membership to keep the camera data up to date. With weekly releases of the database, it is important to download the latest speed camera information to remain safe.
If you see a camera that is not in the database then you can report it using CamerAlert. This feature can also be used to change information about a camera already in the database i.e. changing speed or direction information. You must register your iPhone to submit cameras.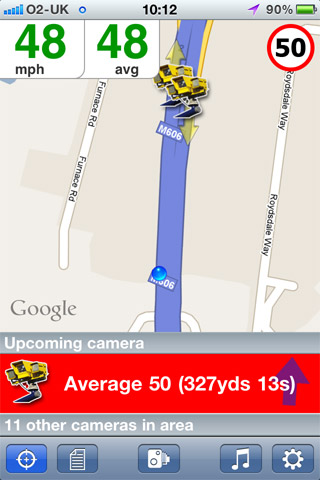 The CamerAlert application has been designed to work in a number of ways to allow you flexibility in the manner that you use it. It has been designed to operate either with no data connection, GPRS or a full mobile 3G connection. You can, of course, update the database using a WiFi connection but this will obviously not load the map tiles when you are driving! This allows you to control the data costs whilst roaming in foreign countries.